Avalon & Stone Harbor - June Market Update
After a safe Memorial Day Weekend, we welcome June with open arms! Summer is finally here after months of waiting. The weather is getting consistently enjoyable. We are ready for another exceptional summer season at the gem of the Jersey Shore.
2021 Year To Date vs. 2020
All of the buzz this year surrounding the housing market has consisted of the narrative of houses being sold within days of being listed, with multiple offers, and more often times than not being sold over the already inflated asking price.
When taking a zoomed out look of the year to date numbers, we see a -21.5% decrease in properties listed, a 17% increase in properties sold, and then a -14% decrease in average sales price. The first two numbers fit right in to explain the historical decrease in island inventory, but the third seems out of place. Although the average price is generally assumed to be somewhere in the middle, it doesn't always accurately represent the distribution.
Zooming in, we can see that there was a 7.5% increase in the median sale price from 2020 to 2021. The median sale price adjusts for outlier situations that skew the average price, which in this year over year sample is due to the influx of 20 units sold in 2021 thus far under $500,000. The same timeframe in 2020 only saw 2 units sell for under $500,000.
When adjusting for the outlier sample of 18 additional properties sold under $500,000, we end up with an average sale price of $2,151,623 and a 8.5% sold price increase year over year.
To finish this summary - we saw houses year to date are selling 3.5% under asking price. The same timeframe last year was selling 6.5% under asking.
Inventory
Active sale inventory for Avalon & Stone Harbor real estate has gradually increased this month. We now sit at 73 total properties for sale. Of those that are active, 44 are in Avalon, and 29 are in Stone Harbor. Motivated buyers in this market still need to be ready to react if a property in their price range gets listed! The number of buyers looking for property are very high. We expect to see inventory in Avalon & Stone Harbor increase a bit as more properties are testing the market, but we may be seeing the same type of market through the summer.
Here is the current inventory breakdown:
56 Single Family
12 Condo/Townhomes
0 Vacant Lots
1 Duplex
3 Commercial
(1 Other)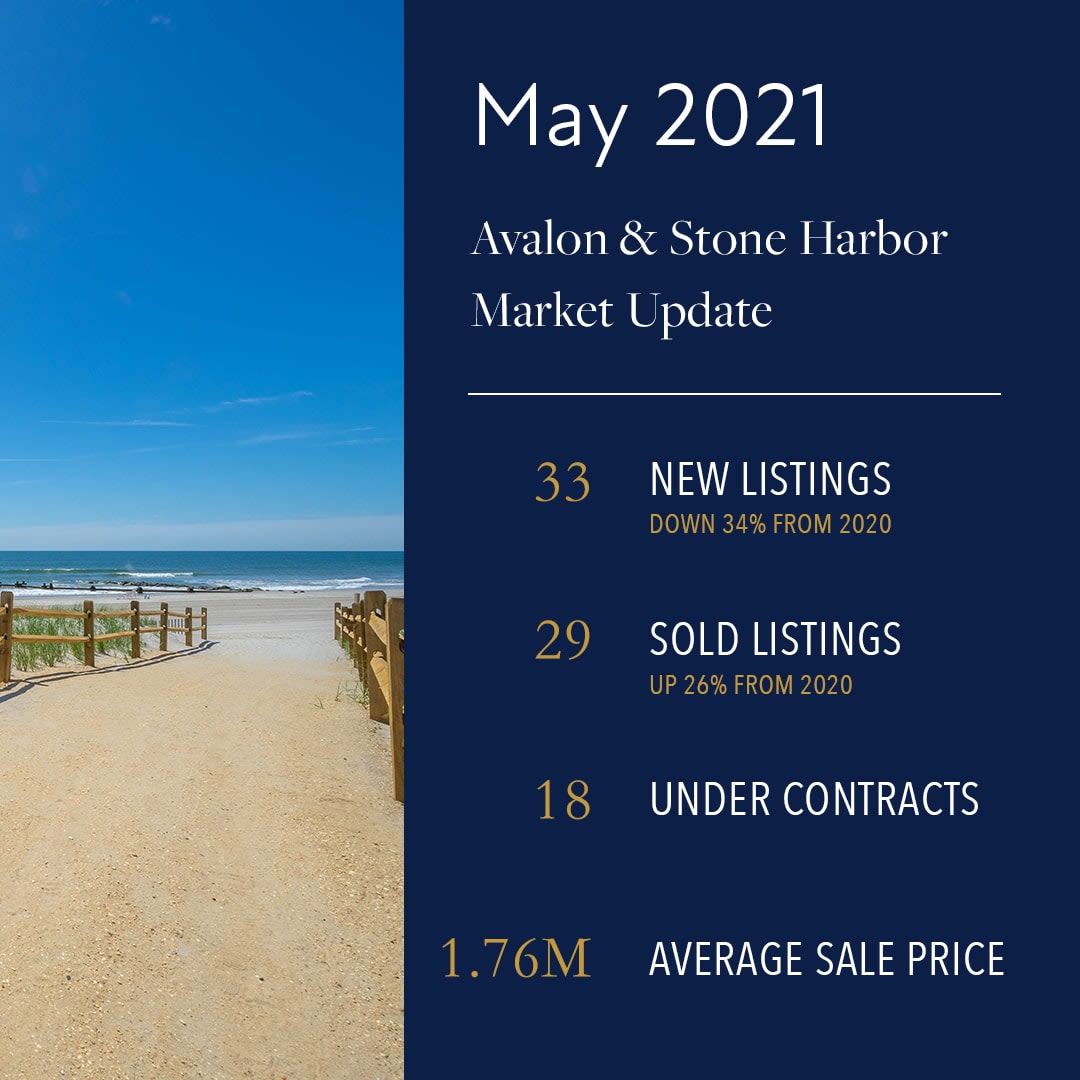 Last month we saw 33 new listings hit the market. In May of 2020, there were 50 new listings. This year there was a 34% decrease in new listings for May.
29 properties were sold in the month of May. The highest sale this past month was $7,500,000. On the other hand, the lowest sale was $305,000. The average sale price was $1,755,224. Comparatively, in 2020, April produced 23 total sales at an average price of $2,037,110.
Here is the price breakdown for the sales:
16 properties under $1 million
4 properties between $1 million and $2 million
5 properties between $2 million and $3 million
4 properties over $3 million
There are a total of 55 properties that are currently under contract in Avalon & Stone Harbor.
Please contact us to discuss the value of your property and explore our marketing advantages with Sotheby's International Realty. Interest rates remain historically low. If you are considering a purchase in Avalon or Stone Harbor, it is important to consult with a lender to discuss mortgage products, borrowing options, and the pre-approval process. Contact us to find the best value in properties currently listed on the market.
Market Update - Avalon & Stone Harbor Rentals
Regarding the rental side of our market, there is still very limited inventory available for this upcoming season. The rental market is very strong with a low supply of active inventory. Many individuals and families booked their Avalon and Stone Harbor rentals earlier than usual. Although, if you are looking for Avalon rentals or Stone Harbor rentals for this year, contact us and connect with an agent who can help you find options for NJ vacation rentals. New inventory does populate, therefore it is important to have an agent who can actively search while inventory becomes active.