Avalon & Stone Harbor - April Market Update
Welcome to the month of April! Spring at the beach is here. It feels like summer is around the corner, and we are ready for it! Looking forward to an exceptional beach season.
Inventory has remained historically low. There are 67 active properties listed for sale in both Avalon & Stone Harbor. 45 are located in Avalon, and 22 in Stone Harbor. Motivated buyers in this market need to be ready to react if a property in their price range gets listed! We expect to see inventory in Avalon & Stone Harbor increase in the coming months, leading up to summer.
Here is the current inventory breakdown:
41 Single Family
13 Condo/Townhomes
4 Vacant Lots
1 Duplex
4 Commercial
(4 Others)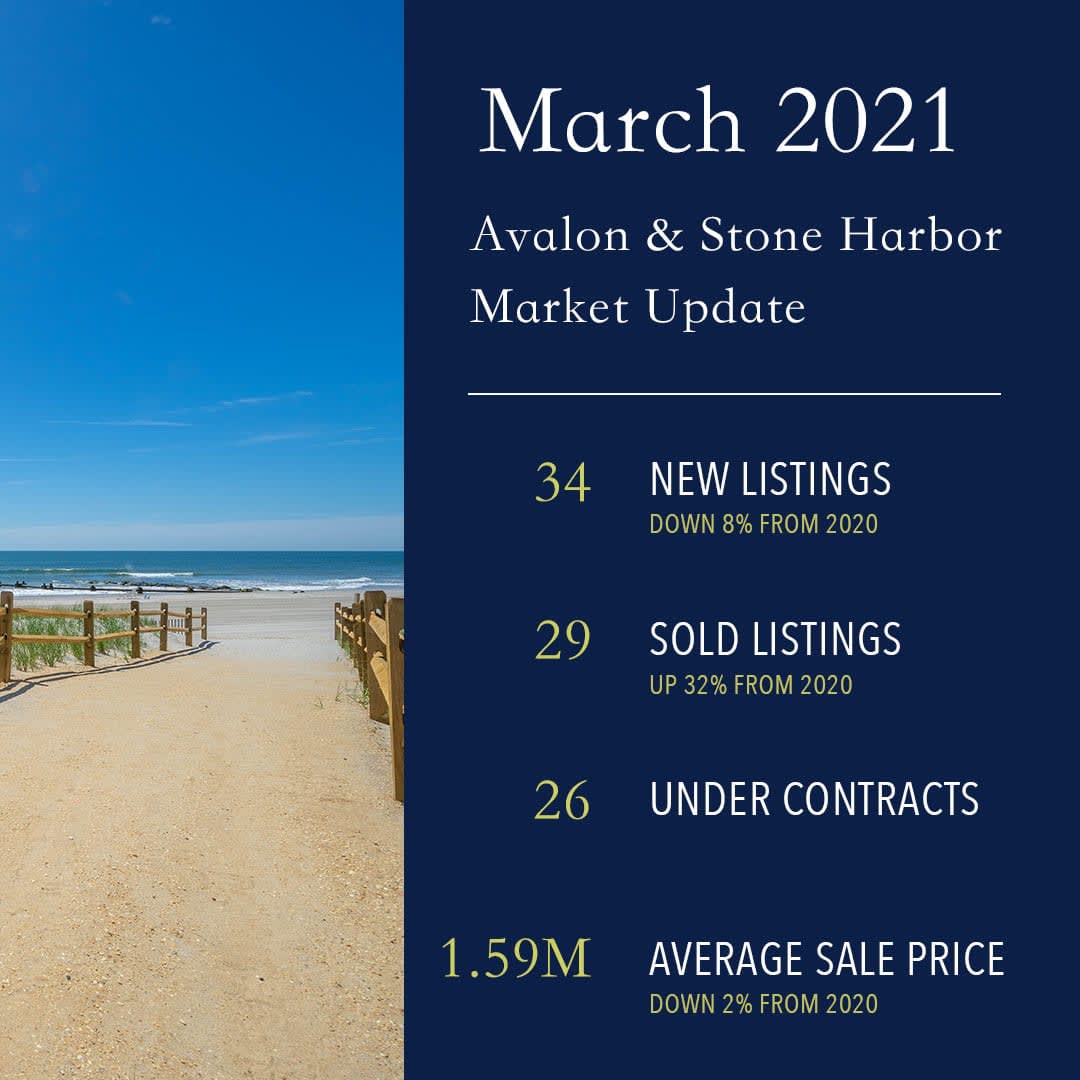 Last month we saw 34 new listings hit the market. In March of 2020, there were 37 new listings.
29 properties were sold in the month of March. The highest sale this past month was $3,299,900. On the other hand, the lowest sale was $275,000. The average sale price was $1,598,841. Comparatively, in 2020, February produced 22 total sales at an average price of $1,636,455.
Here is the price breakdown for the sales:
10 properties under $1 million
8 properties between $1 million and $2 million
8 properties between $2 million and $3 million
3 properties over $3 million
There are a total of 26 properties that are currently under contract.
Please contact us to discuss the value of your property and explore our marketing advantages with Sotheby's International Realty. Interest rates remain historically low. If you are considering a purchase in Avalon or Stone Harbor, it is important to consult with a lender to discuss mortgage products, borrowing options, and the pre-approval process. Contact us to find the best value in properties currently listed on the market.
Market Update - Avalon & Stone Harbor Rentals
On the rental side of our market, there is still very limited inventory available for this upcoming season. We anticipate another active rental season this year. Many individuals and families booked their Avalon and Stone Harbor rentals earlier than usual. Contact us and connect with an agent who can help you find options for NJ vacation rentals.